Trailer Coupling Head INDESPENSION Triplelock for 50mm Drawtube 2600kg ISCP088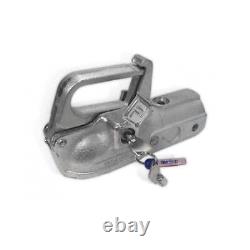 High-security hitch: lock cannot be removed and automatically locks whether hitched or un-hitched. To fit Indespension cast delta couplings, and pressed steel square couplings, with 50mm drawtube and up to 2700kg capacity. Complete with head bolts/nuts and and security "Cappit" kit (covers bolt heads/nuts to prevent removal).
Replaces the coupling head on your caravan or trailer for Triple Security. Suits All Indespension Couplings up to 2700Kg. Cast for strength & reliability.
Electro plated for longer life. Tamper proof bolts & rivets. Female fitting to 50mm drawtube. Bolt fixings 1 horizontal, 1 vertical.