RDX Head Harness Neck Muscles Builder Belt Weight Lifting Gym Chain Exercise H1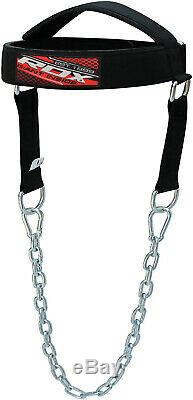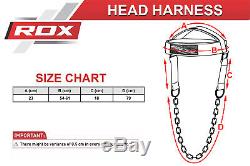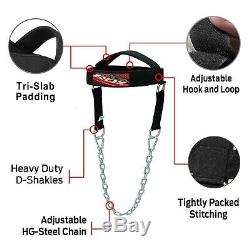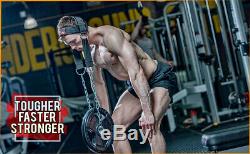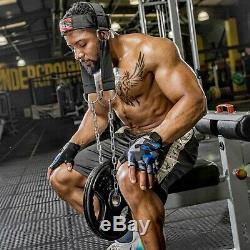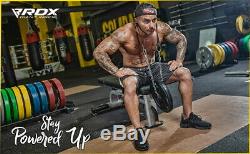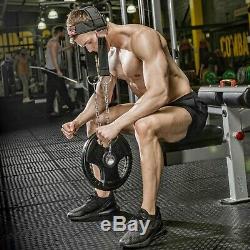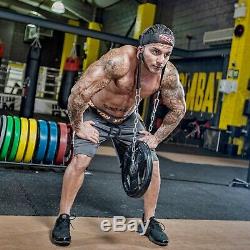 SPEED & DOUBLE END BALLS. AB STRAP & TRICEPS ROPE. KIT BAG & OTHER ACCESSORIES.
THAI PADS & KICK SHIELDS. Items Dispatched within 24 Hours.
Our head harness is expertly handcrafted with NEO-1 material, this harness is not only tough, but it's comfortable. The construction material is tested and approved for long lasting durability.
This could possibly be the most comfortable neck workout you have ever experienced and is ideal for Neck Plate Curls, Neck Building, Trapezius Muscle Stretch and more. This Weight Lifting Gym Neck Builder is contrived with tri-slab padding layers which assists with shock and delivers incredible comfort where you need it most. The tri-slab padding also serves to reduce stress on the seams and minimize wear and tear on the product. Boxers, kick boxers, athletes, and MMA fighters are set to get benefit from utilizing the harness to improve the strength of their neck.
This Head Harness feature Cordura Nylon Fabric to give you premier comfort and stability. It resists tear, cracks and splits. This fabric is hard wearing and can withstand tough training sessions. It further lifts the durability and functionality. HG-steel built is hard-wearing and protected to serve you for many years of use.
It can withstand the extreme load without worrying about its safety. D-Ring shackles are strong and sturdy, and resist all kinds of corrosion. These connections are well suited to rigging up chains for heavy weight workout.
Quick-EZ Hook-and- Loop closure strap guarantees a protected and adjustable fit reducing chances slipping off during workout. The closure strap provides balanced stability, maximum neck flexion and comfort adjustability. RDX's exclusively made head harness was designed to get your head in the game! Strengthen your neck muscles with weight lifting harness that has a thick attachable chain that can be hooked to a variety of weights. Highly durable neoprene built will manage sweat and provide an unbreakable, non-slip weight lifting experience.
Triple layer padding cushions and protects from every direction, lined with a soft polyester shearing for comfort, safe and easy to adjust with the unique hook and loop closure design. Finally, the HG-steel chains are built tough and can be attached to any weight for a customized training session.
The headpiece is solid, secure and fit for a workout. Tough and Heavy Duty D-Ring Shackles can hold on to heaviest of weights without getting de-shaped or cracking under extreme pressure.
Tough D-Shackles are made for easy attachment of plates supporting the strong chain. The HG-Steel chain allows you to place maximum amount of weight with ease. It is rust proof and will endure a career. The head harness is designed in a way to endure maximum pressure of weights. The triple layered pads provides cushioning and comfort through improved resistance in engineering built.
Heavy Duty D- Ring Shackles. Attach weight plate so you can do various exercises to quite literally workout your neck. This innovative and functional head harness is exclusively developed for strength training.
This neck strengthening harness offers a secure, high-grade neoprene and HG steel chain to give you ideal comfort and stability. The padding layers offers sufficient cushioning required for grueling workout. The Neoprene and Cordura Fabric head harness helps to maximize neck training by adding weights during your workout session. It is equipped with heavy duty chain coupled with heavy weighted plate to enhance your strength. The Solid Neoprene Head Harness is an excellent tool for athletes looking to strengthen their neck from all angles. Paired with extra-heavy D rings and a steel chain to allow you to use this harness with any kind of weight at any size. With Quick EZ Hook-and-Loop closure you can get the perfect fit for comfort along with the confidence that your harness wont slip or move. It also includes tri-slab padding, which is designed to absorb shock as well as mitigate cuts and chaffing. Powder Coated Steel Hooks, Top-notch Rubber Lining Grip, Nylon Strap.
Resilient Nylon, Neoprene padding, Dual round grip. Maya hide leather, Rubberized powder coated rust proof steel hook. Sturdy Nylon, Neoprene padding, Rubberized & Powder coated steel hook. Wrist protection, Prevents risk of serious muscular injury, calluses protection. Wrist protection, Prevents risk of serious muscular injury.
Level I protection, Wrist protection. Sweat wicking Fabric & Neoprene Cushioning, Adjustable Hook & Loop Closure. Figure 8 design, thick padding. Reverse Hook grip, Quick EZ hook & loop closure, leather padded, reinforced stitching. Quick EZ hook and loop, Nylon, Reinforced stitching.
Wrap Around design, T5 Stitching. Evenly spread weight to arms, back & shoulders, Avoid grip fatigue, Inexpensive, Increase maximal overload.
Use More Weight, Inexpensive, Increase maximal overload. Therapeutic, Heat retention, Sweat wicking. Deadlifts, Barbell rows, Olympics lifts, pull ups and more. Deadlifts, barbell & dumbbell rows, chin ups & pulls, Dumbbell snatch, Biceps curls and more. Deadlifts, barbell & dumbbell rows, chin ups & pulls and more. Needs 2 more clamps on the side, needs 4 altogether. Super easy to use, great construction. Will continue to use all the time. Good product for your home gym , However I did upgrade the chain and the clips just to be on the safe Side. Great product, very sturdy material! Please allow up to 24 hours for your order to be processed and item dispatched. B2Fitness owns and operates composite facilities for manufacturing and exporting of Sporting Wears commodities particularly Martial Arts Boxing Uniforms & Supplies. The company fully realizes the importance of maintaining the quality of its products and for the same reason it is maintaining a quality control system. Due to these commitments, B2Fitness has established a prestigious position in the market. The item "RDX Head Harness Neck Muscles Builder Belt Weight Lifting Gym Chain Exercise H1" is in sale since Wednesday, November 10, 2010. This item is in the category "Sporting Goods\Fitness, Running & Yoga\Strength Training & Weights\Other Strength Training".
The seller is "b2fitness" and is located in Bury. This item can be shipped worldwide.
MPN: WAN-H1
Activity: Bodybuilding
Brand: RDX
Type: Head Harness
Sub Type: Neck Builder Belt