M6 M8 M10 Wood Insert Nuts Furniture Fixing Screws Hex Drive Metrc Thread TYPE B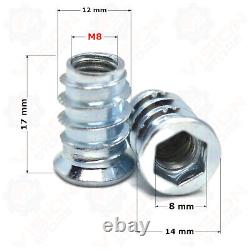 Finished with bright zinc for corrosion resistant. Installed by simply screwing into a suitable size hole. The unique external thread provides excellent resistance to torsion and vibration pull out. Type B have a flange head which prevents driving in too far. Provides a strong permanent thread in wood. Internal threads are standard metric coarse. It has internal and external threads. The internal thread is mainly responsible for self-locking wood. Generally, it is a standard mechanical thread, which is convenient for connecting with other standard threaded fasteners.
Application: Mainly used for implanting wood material, increasing the way of wood thread locking, suitable for hardwood, such as solid wood, and has a good effect in the combination of high-end furniture. The mounting hole should not be larger than the outer diameter of the thread. When locking teeth, some wood glue can be applied to the outer to make the fastening effect good. Make a hole smaller than the outer diameter of 0.2-0.5mm, and use the drive tool to lock the nuts.
The threaded Inserts are playing a very important part role in many home projects. Suitable for repairing poorly-constructed cabinets, closet, knock-down furniture, woodworking projects, loft bed. Using them helps in assembling various wooden parts, make assembly and the conversions quick and easy. Size Available: M6 x 12 mm M6 x 13 mm M6 x 14 mm M6 x 15 mm M6 x 17 mm M6 x 20 mm M6 x 24 mm M8 x 15 mm M8 x 17 mm M8 x 20 mm M8 x 24 mm.
Courier company (UPS, Parcelforce, UKMail) etc. Vision Store is a family owned business.