FirmaHold Collated Clipped Head Nails Ring Shank FirmaGalv+ 50mm 90mm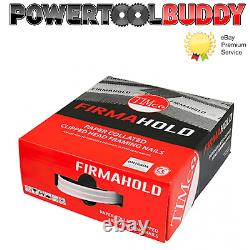 For use in structural applications using high quality paper collation for reduced nail jams. Rust protection to comply with building regulations and meet with service classes. Diamond point for maximum penetration. Clipped head to increase the number of nails per strip and therefore reduce tool loading times. Suitable for indoor and covered outdoor applications.
Conforms to Eurocode 5 and Service Class 2. 50, 63mm Qty 3300 nails. 75, 90mm Qty 2200 nails. To suit the following machines. Optional - 80ml 1st fix gas nailer fuel cells (approx 1100 nails per cell) for Paslode IM350 + IM350+ and other gas power nail guns.
TIMco FirmaHold fuel cells are manufactured to European standards and CE approved for consistent quality. They use cleaned propane and butane gas for cleaner combustion and improve the working environment. Fully synthetic oil for reduced carbon deposition.
High quality propellant to prevent leakage and increase shelf life, the gas is filled in accordance with European regulations.