BIG BLOCK BBC CHEVY 454 496 300cc OVAL PORT ALUMINUM HEADS ASSEM. BBC-OVAL-274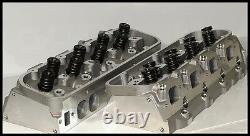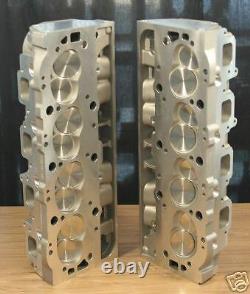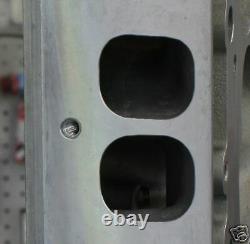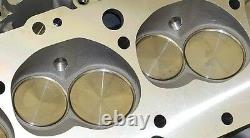 BIG BLOCK CHEVY 300cc OVAL PORT ALUMINUM HEADS BY PROCOMP. FULLY ASSEMBLED, FOR USE WITH HYDRAULIC ROLLER CAMS UP TO 620 LIFT.
This sale is for a set of heads (2 heads). You may have noticed other sellers using a similar name offering similar products. These other sellers have capitalized on our name as we see it, and many customers searching for us will inadvertently find them, thinking we are one in the same company. There is only one Skip White. Our official company name is Skip White Performance.
Please see the article in the lower part of this ad for a more detailed explanation. The Procomp bbc heads are perfect for 427, 454, 496 and 540 street/strip engines. These are what we use on our 505 and 555 bbc engines. They will produce up to 680 hp with the proper cam and intake manifold on pump gas. This is an outstanding trouble-free set of heads.
Fully built, ready to install. In the lower section of this ad you will find valuable information on how these heads perform when used with various engine sizes and cam combinations in street rod form.
Please read the complete ad before purchasing. Fully assembled with premium PBM race grade valves, Melling springs, Comp retainers, viton valve seals, spring ID locators, high grade Comp Cams 10 degree locks. The hardware setup in these heads is for use with hydraulic roller cams.
Below is a detailed breakdown of the hardware used in these heads. We do offer these heads set up for all types of cams. These heads are not suitable on 396 or 402 engines that have the less then 4.250 bore size. With the larger 2.250 intake valve on the BBC OVAL heads, it can interfere with the cylinder wall.
These heads are well suited on 4.280 and larger bore BBC engines. The recommended compression would be from 9.8:1 to 10.5:1 with pump gas, taking advantage of the aluminum castings. Valve size 2.250 and 1.88. These heads have the correct seat diameter to allow use of these valves.
We know of many sellers of aluminum high performance heads that claim to use good hardware. Chances are they don't know the difference between low grade and high quality hardware.
Failure to follow proper assembly procedures and the use of low grade hardware are what cause most problems. Good quality hardware and proper installation can determine how well the heads will function and hold up under hard use.
OUR OTHER LISTINGS FOR THE REC. Please let us know if you are under a time constraint with this order, and we will do our best to accommodate your request. These are true multi-purpose heads for street, drag race, and power boat applications. This set is an excellent upgrade over OEM cast iron heads on your big block engine. We honestly feel there is not a better set of heads for the price. These heads are tried and proven. The intake runner volume is 300cc, and the combustion chambers are 119cc.
You can reduce your engine weight by around 100 lbs. With the use of aluminum heads. You can also increase your power up to 250hp over an OEM 454 engine, depending on choice of cam and intake manifold.
We do our own assembly on our heads. See details below about our hardware and assembly procedure.
We also offer variations of these heads for use with all types of cams. Be sure of what type cam you plan to run before purchasing. Read the ad completely before purchasing. The horsepower gain from the weight reduction of aluminum heads alone is noticeable, not to mention the fact that aluminum heads will allow you to run a bit more compression without the risk of detonation.
The benefits are many to running aluminum heads. The most expensive cars in the world all run them.
We are confident that we offer the best advice in the business. We also offer these heads in bare form, as many customers have selected a machine shop of their choice, as well as their own hardware. We hope you will check out our other listings for the many other items we have available. Ere is a rundown on the hardware used in these heads and the assembly process.
PS824 forged high temp stainless. We use what we consider to be the best valves on the market: the C. These valves are considered very high quality. Do a search on this brand of valves and you will find them to be very highly rated. PBM has three different series of valves.
These are the top line. The backcut feature reduces valve weight by an average of 13 grams per valve. This weight reduction of approx.
208 grams for the complete set has a great effect on acceleration, deceleration, and will extend valve train life. The valve spring compression and rebound action will remain stable at a higher rpm with the use of reduced weight valves. The instability of a valve spring at high rpm is known as valve float. This is very damaging to the heads, and valve train components.
The backcut feature is not be mistaken for an undercut. These valves have both features. Backcutting is an additional radius put on the head of the valve to increase the flow numbers and reduce valve weight. The flow increase is usually around 3-6 points on the flow bench, and possibly more, depending on the initial flow rate of the heads.
According to one of our machinists who built Winston cup engines for 15 years, the exhaust valves had an additional radius cut on the outermost edge that allowed a better escape of the exhaust gas. This cut on the exhaust valve is in addition to the backcut feature. The Competition series is made from a much higher temp alloy than most other stainless valves. There are at least three levels of stainless valves on the market, excluding those used in very high level racing such as pro-mod. The PBM Competition series is compared to the highest level of those three.
Notice in the picture below the concaved face of the valves. You will only see this on high end valves. Most other valves are either flat faced or have a dimple in the center. The pictures below show our PBM valves installed in set of CNC'd combustion chamber heads. This is not actual combustion chamber of the PC heads.
The pictures are to show you the valve face design. Pictured directly below in the first pic.
Is the PBM competition valve, and the other pic. Is of our conventional style valve. It was difficult to show the back-cut feature in the picture, but note that the valve that is hand-held (PBM) has a third radius cut.
These valves are swirl finished, back-cut plus undercut style, and have a very well designed lock groove. The exhaust valves have an additional feature: a blunt face on the outermost edge to assist in the elimination of exhaust gases.
Low temp valves will fail with ease under the right conditions. High temp valves are not just for those running to extremes; they are essential for all carbureted engines. Should your engine lean out for any reason, the combustion temperatures can rise in an instant.
Carbs that are not working as they should (and all carbs have their moments) can cause a lean condition and you will most likely not know this is happening. Using a low grade stainless valve on a.
Engine will cause problems sooner or later. If you're running a blower, your valves must be of the highest grade stainless. Marine engines require a premium valve due to the fact they are run at high rpm (usually 85% of max rpm) for long periods of time. This sustained high speed is more than any standard stainless valves can take, and not just due to the heat. The stems must be perfectly designed and constructed with high end alloys.
These valves are used in many 800 hp. You simply can't do this with low level stainless valves, or they will fail. Melling High Performance Dual Springs.
Our Melling springs are 1.46 diameter, with an inner spring and internal damper. Others are using springs that are much smaller in diameter.
Smaller diameter springs may be in the correct spring pressure zone, but they usually have a shorter life. Melling springs are made in the USA. All of our engines using the Procomp BBC heads use these springs. Spring failures are near non-existent. 10 Degree machined valve locks.
We use only Comp Super 10 degree machined locks. Our head builder noticed the low grade locks on the market fit more loosely than he felt they should, not to mention the possibility that they were made of inferior metal. He envisioned the engine being much more prone to dropping a valve at high rpm.
Using these locks, coupled with our PBM valves, we have yet to have an engine drop a valve due to a valve lock failure. Comp Cams retainers # 75740-16 and Comp Cams ID locators. Our Comp Cams retainers # 75740-16 and Comp ID locators # VTH-4771-16 are made from 4130 chromoly steel. These retainers have a perfect fit with the Comp valve locks.
We have used these on all of our engines for many years, and have had zero failures. I'm sure many of you have noticed there are 2 high performance engine builders in Kingsport, TN with similar names, leading to a great amount of confusion. We are Skip White Performance, NOT White Performance and Machine. Due to the name similarity, many customers looking for us online inadvertently find them, thinking we are the same company.
There is no connection between the two companies. We don't have a problem with free enterprise (competition). However, when the competition builds their foundation on such things as a name similarity and their supposedly long history of being in business, then we think it's about time we set the record straight. We have owned White Performance since 2003, with the exception of the machine shop, which was owned by Fred White at the time.
Due to their limited production capability and many disagreements about the engine and head building process as well as workmanship, we opted to open a full scale machine shop of our own a few years later. Fred White began competing against us even though our contract had a non-compete clause in it. As our business grew, we opened a second, much larger warehouse and machine shop around 2011, located on Brookside Ln. By putting heart and soul in this company, we have become the number one street rod engine builder in the nation. This investor lacked any knowledge of this industry. They continue to use the White Performance & Machine name. Contrary to what is posted on their website, Fred White is no longer associated with the company in any way.
All in all, we have been in this business going on 17+ years. Skip White's passion has been owning and building street rods for 47 years on a personal level. The knowledge he has gained over time has allowed him to venture into this business and succeed to a very high level. The great pretenders continue capitalizing on our success due to the name similarity, but have been degrading our reputation.
We have been getting calls nearly on a daily basis from people that now realize there are two shops in this town with very similar names. Customers complain of serious problems in getting their orders in a timely manner from them. FAST FORWARD TO PRESENT DAY... We have become the largest street rod engine builder in the nation.
2-5 weeks, perhaps sooner, depending on the season. We are not responsible for collateral damage caused by the use of this product. The RGA number must be included on the return label. Even though you may have explained the problem to us, and been granted permission to return the product, we must have a written explanation and a contact number included with the product. It is also recommended that you include the name of the person from our company that you have been in contact with.
Following these guidelines will make the return process work as it should. If you are in a 3 day zone, and your package leaves on a Thursday, you should receive it on the following Tuesday. The item "BIG BLOCK BBC CHEVY 454 496 300cc OVAL PORT ALUMINUM HEADS ASSEM.
BBC-OVAL-274" is in sale since Tuesday, March 9, 2021. This item is in the category "eBay Motors\Parts & Accessories\Car & Truck Parts\Engines & Components\Cylinder Heads & Parts".
The seller is "skipwhite" and is located in Kingsport, Tennessee. This item can be shipped worldwide.
Surface Finish: ALUMINUM
Manufacturer Part Number: BBC-OVAL-274
Brand: Speedmaster
Warranty: Yes