Landrover DEFENDER Pair 7'' LEGAL 105W Round LED Head lights DRL+TURN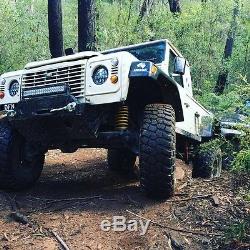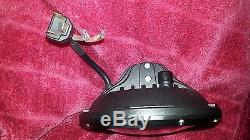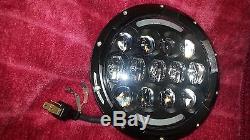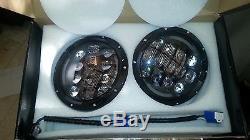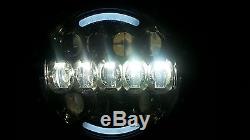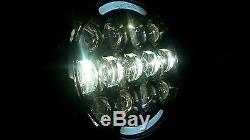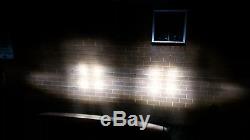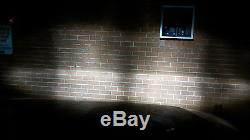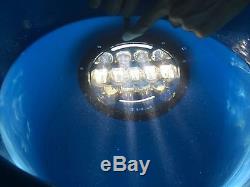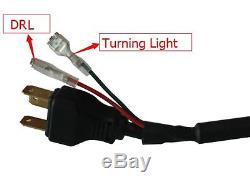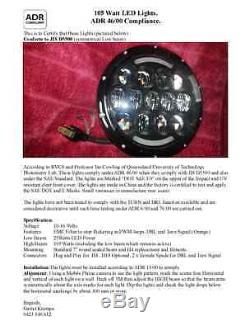 From my testing they are 7.7W on low beam and 33 W on High beam.. With poor beam pattern and high glare. YES they have DRL (White Parking light) + ORANGE turning light.
You can now see when you dip your high beam and Light bar! Now also available in 130W 66% brighter high beam.
Take your time to READ what's here. I've spent well over 100 hours to get these lights RIGHT REAL WORLD TESTING. 105 Watts not 26 watts like others. They have 21 x 5 Watt OSRAM Chips.
These are HIGH CRI (Colour rendition Index) LEDS. That means great visibility under all conditions. The LEDs are the same "colour temperature" as a clear sky around Miday.
Yes these are Hi/Lo beam head lamps. Are these Better than "Narva Tuck Lites" - Yes and 1/5 of the cost. Low beam is better and High beam is also better. / why replace the sealed beam - Doh Sorry but DOH is the right answer. / Why replace my 100/130 H4 Halogens?
- Legality - (not that "they" notice much). AND they degrade they do not turn OFF.. They do not POP especially in rough terrain! The WHITE light is much more friendly on the eye on long distance touring, with better spread pattern. / Why do I worry when I have a 300 W light bar?
- When you dip that light bar you can NOT see the road. With these lights you CAN. They are the same 5000-000K colour temperature and light the signs and road side lane markers, so you CAN continue driving WITHOUT having that unnerving feeling of 5 seconds eye adjustment. I have found that slightly terrifying in the Kangaroo country, and winding mountain roads.
/ Do they just bolt in? In the Defender you can also connect the DRLs (small upper and lower lights) to the parkers, sure some wiring needed.. And, if you wish, delete your parkers. / Do you have stock?
Yes I always have stock a week away at most. / Are they REALLY LEGAL EVEN IN QLD? Bet your rocks they are! / What do I have to modify to fit to a Jeep (wifes car). NOTHING they come with H13 adapters for later models. / Do they suite trucks. MUCH MUCH better than most truck lights fitted as standard. / Are they BETTER than HID Hi. Heaps better, HID "units" suffer from a illegal.
They POP not degrade like LEDs. / No Brackets required for replacing Standard 7 Round head lamps Sealed beam, H4, H13.
/ Can I drive through rivers? These are rated IP67 Under 1m of water for 30 mins with no damage. 1 m of water above your head lamps is getting seriously into Titanic Territory! / My Left hand head light stopped working. Defenders are notorious for the left hand head lamp to fail due to wiring issues.
There are 4 of them Left High Beam, Right High Beam, Left Low Beam and Right Low beam in the left side of the fuse box. The left hand light passes from left to right on the fire wall though a ring. This wears through the insulation.
12 mm flexdute may fix this or rewiring. Replaces all 7 round sealed beam and Halogen units. There is also a Discovery 1/2 conversion kit.
I was asked to find these lights by a few local 4x4 clubs searching for better lights that are Legal in NSW , VIC and QLD. After studying ARD46/00 and many exhaustive discussions with Chinese Manufacturing companies over several months I was able to Locate, modify and certify these lights for Australian useage.
I only sell things that I have personally used, and others have tested. That's how a 4x4 club works! On low Beam the 5 lights in the middle are active. That's 5 x 5 Watts.
On High Beam the extra 8 lights have 2 x 5 Watts each. So low beam is 25 Watts High Beam is 105 Watts. This gives a good spread of light close and far. Last 2 pictures are high beam and low beam spread against a brick wall to show you the very controlled light pattern. You can see in the pictures of the Garage door that the LED is on the right.
The left light is a Brilliant Blue 90/100 Halogen. You can see that there is a nice spread of light on low beam its about 80 cm high and about 1.5 m wide on the door. The Halogen is not that spread and does not give as good side visibility - very useful for night driving as you spend a lot of time looking at the white line by the road to avoid the oncoming head lights. The High beam appears as 4 round spots grouped together.
For distance, BUT you still have the low beam on as well. You can tell the poor quality ones.
They have straight led bars not curved, you can see the individual LEDs. They also do not have molded end plugs, and Breathers at the rear. Cleaning using a soft brush and mild soap. Certified by SAE, DOT, and E Mark and I have the proof of certification.
LEGAL in ALL Australian States under. ADR 46/00 section 7.8. Listed else where be quick these are the first Legal high Wattage Lights available in Australia. Come with integrated parker / DRL with 2 x Female spade connectors fitted and a H4 style 3 pin connector. Face to back they are 65mm.
Rear mounting Holes are M8 and bracket (not supplied) width at back is 85mm 2 x M8 holes are separated by 15 mm centre to centre. They suite Jeeps, Nissan's, Harleys (with rear mounting) Range Rover Classic (RRC) Defender, many trucks. I'm stoked at these lights so I thought I'd offer them to the general public after all the testing we've done. NOTE: do NOT block the breathers on these lights.
The frontal area is very large and 0.5 PSI is equal to 12 Kgs pushing the front cover off the assembly. The breathers are there to stop this from happening. The heat generated causes pressure build up inside the light as the air expands.
This WILL lead to moisture getting into the lights as the front seal is VERY important. If you have inadvertently done this then you can remove the front faceia using a 2.5mm Allan key and re-seal with black neutral cure silicone after drying with a hair drier on LOW setting. Weight is 2.5 KG per pair. New stock arriving every 2 weeks.
The item "Landrover DEFENDER Pair 7'' LEGAL 105W Round LED Head lights DRL+TURN" is in sale since Thursday, June 23, 2016. This item is in the category "Vehicle Parts & Accessories\Car & Truck Parts\Lights, Indicators\LED Lights". The seller is "garret-au" and is located in Baulkham Hills, NSW. This item can be shipped worldwide.
Bulb Colour: 6500K
Manufacturer Part Number: 7-105W-LR
To Fit: Headlight
Placement on Vehicle: Front
Brand: ULTRAFLEX4x4
Type: Headlight Kit
Bulb Size: H4 (9003)