GoPro HERO4 Black Edition +2 Extra Battery +Head Strap 64GB All In 1 PRO Acc Kit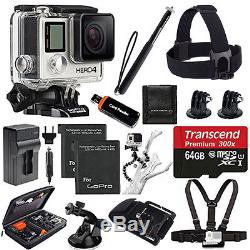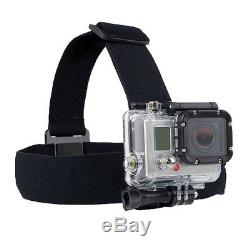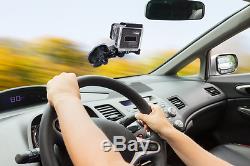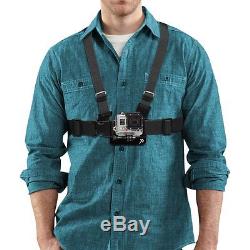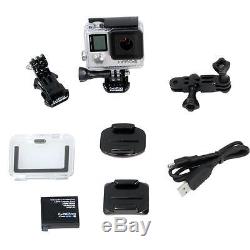 GoPro HERO4 Black Edition +2 Extra Battery +Head Strap 64GB All In 1 PRO Acc Kit. EVERYTHING THAT IS INCLUDED IN THIS LISTING (IMAGES & ITEM DESCRIPTIONS BELOW). Single Battery Charger for GoPro Hero4 Battery (Black). Hard case for Gopro medium. Camera & Lens 3 Piece Cleaning Kit. Wrist Strap Band Mount for GoPro. Transcend 64GB MicroSDXC Class10 UHS-1 Memory Card with Adapter 45 MB/s (TS64GUSDU1E). Xit chest strap mount for Gopro.
Head strap mount for Gopro. Rechargeable Battery for GoPro HERO4 AHDBT-401 x2. Xit hand held monopod extends to 43'' for SLR Camera with Gopro mount. Hi-Speed SD USB Card Reader.
GoPro Tripod Mount for all GoPro Cameras (Black) x2. Suction Cup Car Mount for Gopro. Detailed Descriptions & Images of all items in this KIT/Bundle. Introducing HERO4 Black, the most advanced GoPro ever. Featuring improved image quality and a 2x more powerful processor with 2x faster video frame rates, 1 HERO4 Black takes Emmy Award-winning GoPro performance to a whole new level.
Incredible high-resolution 4K30 and 2.7K50 video and high frame rate 1080p120 video enable stunning, immersive footage of you and your world. New Protune settings for both photos and video unlock manual control of Color, ISO Limit, Exposure and more. Waterproof to 131 feet (40 meters) with 12 MP photos at a blistering 30 frames per second and improved audio1, HERO4 Black is the ultimate life-capture solution. 4x the resolution of 1080p. 4K30, 2.7K50, 1080p120-HERO4 Black is the first camera of its kind to feature ultra high-resolution, high frame rate video as powerful as this. Once the exclusive domain of large, costly cameras, HERO4 Black delivers truly professional video quality in a tiny package. HERO4 Black brings it all.
1 Combined with powerful new features and technologies-and improvements to audio, usability, wireless connectivity and more-HERO4 Black is the most advanced, highest-performing GoPro ever. With 12MP Burst photos at a blistering 30 frames per second, HERO4 Black helps you capture the moments you don't want to miss. Capture single photos, or choose Time Lapse mode to shoot photos automatically at set time intervals from 0.5 to 60 seconds-great for gear-mounted shots when the shutter button is out of reach. Night Photo and Night Lapse offer customizable exposure settings of up to 30 seconds for breathtaking images of the night sky and more.
New settings for after dark. Capture the night sky in a whole new way.
New Night Photo and Night Lapse modes offer customizable exposure settings of up to 30 seconds for single and Time Lapse photos. Whether you're shooting the Milky Way or a campfire hangout, Night Photo and Night Lapse allow you to you capture ultra low-light scenes like never before. Control, view and share with built-in Wi-Fi + Bluetooth. HERO4 Black features built-in Wi-Fi and Bluetooth, allowing you to connect to the GoPro App, Smart Remote2 and more.
The Smart Remote allows you to control multiple GoPro cameras from distances of up to 600 feet (180 meters). HiLight Tag your best moments.
HiLight Tag, a new HERO4 feature, enables you to mark key moments while recording so you can quickly locate your best clips later for convenient playback, editing or sharing using the GoPro App or GoPro Studio. Just press the dedicated button on the camera or Smart Remote, 2 or use the GoPro App to tag your highlights. World's most immersive video.
HERO4 Black features SuperView, a GoPro-exclusive video mode that captures the world's most immersive wide-angle perspective. It allows you to capture more of yourself and your surroundings in the shot-resulting in captivating, ultra engaging footage of every adventure. Let the camera do the thinking for you. Auto Low Light mode intelligently changes frame rates based on lighting conditions for optimal low-light performance, enabling you to move between bright and dark environments without having to adjust your camera settings. Be ready to capture the moment at a moment's notice with. It turns your GoPro into a one-button camera, allowing you to power on and start recording automatically with the press of a single button. Press once to record video, press and hold for two seconds to capture Time Lapse photos. Never worry again about missing an epic shot. Featuring a powerful new audio system, HERO4 Black captures clean, high fidelity sound. Its cutting-edge microphone delivers nearly 2x the dynamic range, while a best-in-class audio algorithm ensures your recordings sound smoother and more natural than ever. 1 Plus, with its new, integrated ADC (analog-to-digital converter), HERO4 Black is compatible with a wider variety of professional low-sensitivity external mics3 for immersive stereo audio capture and enhanced performance, whether recording voices, an acoustic jam session or a live show.
HERO4 Black features a new dedicated button that allows you to quickly access and adjust camera settings. Simplified menus make navigating settings more intuitive than ever. Protune, now for photo + video. Protune unlocks the camera's full potential, delivering minimally compressed, cinema-caliber video optimized for professional productions, and advanced manual controls for photos and video. Flex your creativity with customizable settings for Color, ISO Limit, White Balance, Sharpness, and Exposure-and enjoy the greatest degree of manual control available in a GoPro camera.
Charger for GoPro Hero4 Batteries. LED light indicated RED when charging and GREEN when completed.
Gripster Flexible Tripod for Compact Digital Cameras and Camcorders. For Compact Digital Cameras and Camcorders. Quick release plate for fast and easy camera mounting and dismounting. Safety Knob locks the mounting plate in place for additional security/ Rotate clockwise to lock, counterclockwise to unlock. Flexible Joints bend and rotate 360 degrees to conform to any shape - Rubber rings and Foot Grips provide extra gripping power for a secure hold. Can be used with most digital cameras and GoPros.
This Premium Custom Case with Removable Foam is the perfect way to transport your GoPro cameras without worrying about damage. This case neatly organizes and protects your action cameras and various accessories.
/ Fits: 2 GoPro Cameras, extra batteries, plus accessories. Size: 22.5 x 17.5 x 6.7cm. Hard case for GoPro medium size.
This 3 piece Camera Lens cleaning kit is perfect to carry in your camera bag. It includes 5 cotton swabs, a bottle of cleaning fluid and a soft-tex fiber cloth. Fits in your camera bag.
1 - bottle of cleaning fluid. 1 - soft-tex fiber cloth. Memory Card wallet holds up to 3 memory cards (SD, CF or MS) in secure pockets. It is made of a sturdy fabric, in a fashionable design.
1 - Tri-fold Memory Card Wallet. Mount adapter fasten on high-strength outer layer fabric inner layer fabric made with material that breathes well to ensure wearing comfort. Compatible with housing and frame mount for ALL GoPro HERO camera.
You have full use of both hands when not recording and this makes the wrist mount perfect for surfing, snorkeling, climbing, and skiing. The wrist mount secures your camera flat against your wrist for hands-free convenience Easy to pivot your camera upright to capture video and take photos. Wear GoPro Like a Watch. Fold Camera Flat when not Shooting.
Also Straps to Poles and More. Designed to enhance your smartphone and tablet user experience, Transcend microSDHC UHS-I memory cards feature the Ultra High Speed Class 1 specification. Utilizing this next-generation technology, these cards ensure the best possible performance when running memory-intensive mobile apps and games, as well as smooth Full HD video recording and seamless playback. Supports Ultra High Speed Class 1 specification (U1); Class 10 compliant. Smooth Full HD video recording performance. Ideal upgrade for smartphones, tablets, and digital cameras. Compatible with devices with microSD, microSDHC and microSDXC slot. Built-in Error Correcting Code (ECC) to detect and correct transfer errors. Fully compatible with SD 3.01 standards. Supports auto-standby, power-off and sleep modes. Transcend 64GB MicroSDXC Class10 UHS-1 Memory Card 45 MB/s (TS64GUSDU1E). The "Chesty" is fully adjustable to fit all sizes.
It is easy to capture immersive video and photo footage from your chest. It is perfect for skiing, mountain biking, motocross, paddle sports, or any activity where you want to get a "lower than the helmet" view of the action. See more of your arms, knees poles, and skis while skiing or your arms and handlebars while biking or riding your motorcycle. Recommended as a more immersive way to film than on the helmet.
Xit chest strap mount for GoPro. This GoPro Head Strap Mount is Fully Adjustable to fit all sizes. The Head Strap is compatible with all GoPro cameras and great for keeping the footage clear while you shred. Head strap mount keeps your action camera or GoPro camera mounted to your head without a helmet. GoPro camera head strap keeps your hands free.
Allows you to stay focused when climbing, swimming, performing search and rescue operations or any other activity where a helmet isn't needed or required. Head Strap is fully adjustable to fit all sizes.
Head Strap can be worn over a helmet or directly on your head in a headlamp-like position. Rechargeable Battery for GoPro HERO4 AHDBT-401 (x2).
Increase your shooting capacity with this powerful AHDBT-401 Lithium-ion rechargeable battery for GoPro HERO digital cameras. More powerful than your standard battery, this spare high-capacity AHDBT-401will not put constraints on how you want to shoot. Plus, this rechargeable battery is Memory Free. It can be charged at any time without harm, even if it already has a partial charge, and can be typically charged over 1000 times.
Rechargeable Battery for GoPro HERO4 AHDBT-401. The Xit Extendable Hand Held monopod extends from 8"-43". It features a padded Grip with a Wrist strap.
The monopod sports a regular tripod mount, it also includes a GoPro mount so that you can mount your GoPro camera. Hand Held Monopod for GoPro and Regular Cameras.
Padded grip with Wrist Strap. 1 - Xit hand held monopod extends to 43'' for SLR Camera with GoPro mount. A card reader is a small piece of hardware with simple Plug & Play features that connects directly to your PC via a USB port and allows you to transfer pictures & other media files without the need to plug your camera to the PC. 1 - Hi-Speed SD USB Card Reader. GoPro Tripod Mount for all GoPro Cameras (Black) (x2). Allows the user to mount any GoPro camera to a tripod.
GoPro Tripod Mount for all GoPro Cameras (Black). Compatible with a protective housing and other accessories for GoPro Hero cameras. Easy to pivot your camera to capture videos and take photos.
Adjustable arms allow various mounting positions. Mount your camera on windshields, dashboards, boats, motorcycles and more. Dual-purpose suction cup mounts with included GoPro HERO Adapter which fits all models.
This includes an adhesive dash disk that the suction cup will adhere to just like glass. This is especially handy in states where windshield mounting may be illegal. Clips to the bottom of your camera just like the ones from GoPro.
Compatible with all GoPro Hero models. Suction Cup Car Mount for GoPro. What happens if we need more verification? Should you have any questions or requests for specific information regarding any of these potential charges, we advise you to consult with your local government import office.
Please make your arrangements accordingly. Although we specialize in professional photography equipment we carry a large selection for the amateur photographer as well. We attribute our success to our competitive pricing and to our high standards of honesty and integrity.
We stand behind our products as being the top quality that customers expect to receive. Our high standard of honesty has gained us a respectful reputation in the photography industry and has earned us many repeat and friend referred customers. When browsing our store, keep in mind that our friendly and knowledgeable staff are always ready to help you in finding the right equipment. So browse at ease and enjoy the widest selection of cameras, camcorders, printers, scanners, lighting equipment, tripods, lenses, flashes and much more.
At times, we may substitute accessories for similar ones of equal or greater value. We are open Monday through Friday. We will get back to you very shortly. For the necessary arrangements prior to purchasing. Sign up for our newsletter. Follow & Share with Us. We are trending on Social Media. Follow us and stay updated with our Latest Post, Blogs, Images. The item "GoPro HERO4 Black Edition +2 Extra Battery +Head Strap 64GB All In 1 PRO Acc Kit" is in sale since Wednesday, February 25, 2015. This item is in the category "Cameras & Photo\Camcorders". The seller is "photovideo4less" and is located in Brooklyn, New York. This item can be shipped worldwide.
Brand: PHOTO4LESS
MPN: GOPRO Hero4 black k10
Model: GOPRO HERO4 K9
Bundle Listing: Yes