GM Truck 5.3L 2014-18 Whipple Supercharger Intercooled 2.9L Complete System Kit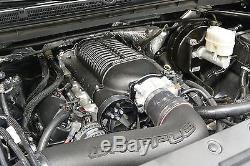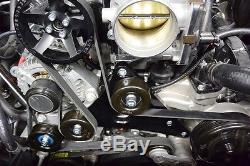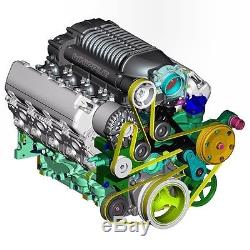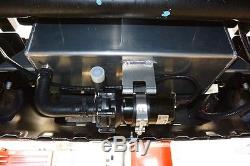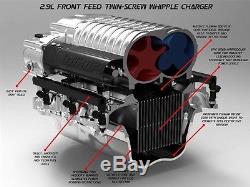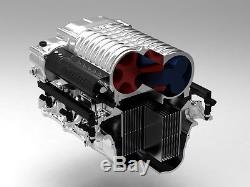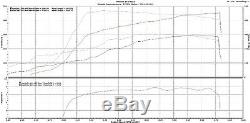 Whipples team have now engineered the most powerful intercooled twin-screw SC system available today for your GM direct injected engines. With all the latest technology, the all new Whipple system makes more power than any other positive displacement supercharger system on the market giving you tire frying, neck whipping power that will give you a grin from ear to ear.
The new Whipple system is 100% complete and is designed for stock engines but has enough capability to work with heavily modified engines. There are many different options available from Whipple, please view the details section below for the details on this kit. For the many other Whipple Supercharger kits available, and options such as upgrading air inlet or polished head units.
WHAT TO EXPECT FROM THIS PRODUCT. Since 1987, Whipple Superchargers have been the pioneers and leaders of twin-screw supercharging. Whipple was the first to bring positive displacement technology to fuel injected, emissions legal GM applications. With over 26 years of GM twin-screw supercharging experience, Whipples team have now engineered the most powerful intercooled twin-screw SC system available today for your GM LT1 direct injected engines.
The all-new system features Whipples massive oversized air-to-water intercooler for unmatched cooling capacity, W175FF Whipple twin-screw supercharger that reaches 99% volumetric efficiency and industry leading power potential. The unique intercooled bypass system offers better acceleration and less than 1hp of consumption during cruising for excellent fuel economy. The system also includes a massive (over 3 times larger than competition) intercooler water reservoir that has over 4 gallons of capacity, aluminum high flow intake manifold and a SCT X4 for the factory ECU and transmission recalibration. While others claim, Whipple Superchargers simply deliver more power per pound of boost than any other supercharger on the market today.
Rear Inlet The Whipple front feed system is far superior to rear inlet based SC systems for a very simple reason, less inlet restrictions. While some companies make phony claims about how many bends they have, the fact is simple, the front entry systems do not require multiple 90deg bends or one sweeping 180deg bend before the SC inlet, which causes unequal rotor filling and lower volumetric efficiency. For 50-state emissions legal systems, the Whipple front entry system requires 1 less bend (3 to 4) then any rear entry SC. With other cold air intake systems, it's 2 less bends (1 to 3). Others just show pictures of the air tube, but forget to mention the SC inlet which makes 2 90 deg bends, while also restricting plenum volume so they can clear the firewall. Not all front inlet systems are created equal. As in typical Whipple fashion, the Whipple front inlet system is not restricted by a 93mm inlet system which severely limits your potential power gains.
The Whipple SC system uses a unique 112mm round (round flows significantly more then oval or rectangle) inlet for nearly 1800cfm capacity (1200hp). With the Whipple system featuring the stainless steel jackshaft, it also maintains a true high flow system from the filter to the supercharger inlet. Other systems have severe inlet restrictions with the shaft running through the already small inlet path, further restricting airflow and potential power.
Whipple Fuel System These trucks use the factory fuel system to maintain proper fuel levels at peak power. A unique feature is the pre-casted injector bosses for future upgrades if needed.
Horsepower gain: 150+ W175FF 2.9L supercharger head unit, 7-8 psi Highly effective air-to-water intercooler Fuel Pump Supplied: NO, Booster pump available if needed Fuel Injectors Supplied: These trucks use the factory fuel system to maintain proper fuel levels at peak power Computer/Ignition Mods. Programming Supplied The most power per pound of boost on the market! Easy and quick installation System is 100% complete with OEM quality and appearance Significantly outflows competitors 1.9L Roots-Type & 2.3L Twin-Screw; Most Efficient Twin-Screw Supercharger On The Market Complete With All Necessary Parts & Hardware For Installation 50 State CARB Legal No Internal Modifications Required TREperformance is an Authorized Installing Dealer of Whipple Superchargers. Full System Specifications: The most powerful 50-state emissions legal option available, nearly 50rwhp over some of our competitors No other upgrades required, just massive power right out of the box Front entry W175ax (2.9 liters) Whipple twin-screw supercharger that significantly outperforms competitions 1.9L and 2.3L roots-type systems 52% more displacement than the 1900 1.9L 26% more displacement than the 2300 2.3L Front feed supercharger utilizes precision ground helical cut gears vs a problematic belt Integrated casting to minimize bolt on pieces, adapters, leaks and flow restrictions Integrated Crusher venturi shaped inlet for maximum airflow capacity and minimal rotor cavitation Integrated Crusher 112mm round inlet outflows smaller 90 and 93mm inlets such as other systems Integrated Crusher 112mm round inlet for optional 102mm throttle bodies Big Mouth Whipple Crusher plastic air inlet (or optional carbon fiber) for increased velocity and lower inlet temps vs.
We have Whipple supercharger systems to fit almost every performance application! We do not lower invoice values since it is a violation of US and International custom laws.
Let us work to resolve your problem so everyone is happy. Suite D7 Costa Mesa, CA 92627. The item "GM Truck 5.3L 2014-18 Whipple Supercharger Intercooled 2.9L Complete System Kit" is in sale since Friday, October 16, 2015. This item is in the category "eBay Motors\Parts & Accessories\Car & Truck Parts\Turbos, Nitrous, Superchargers\Superchargers & Parts". The seller is "treperformance" and is located in Costa Mesa, California. This item can be shipped worldwide.
Brand: Whipple Superchargers
Manufacturer Part Number: WK-1200B
Placement on Vehicle: Front
Surface Finish: Black
Warranty: Yes
Country/Region of Manufacture: United States
Interchange Part Number: W175FF Blower SC Head Unit LT1
Other Part Number: Direct Injection
Type: Supercharger Kit
Fitment Type: Performance/Custom